Snacks
Davar Services provides a wide variety of brand name snack items for your machines including but not limited to candy, chips, cookies, breakfast items and soups.
Our goal is to stock your machine with items that your employee's desire. Davar services will conduct a pre-installation survey which allows our staff to gauge the demographics of your environment in order to better meet the needs of your employees. Once the machine is installed, our route drivers evaluate product consumption on a monthly basis and eliminate slow-moving items.
We also offer a wide selection of fresh food and healthy snacks. For more information on our healthy selections please click here.
Brand Name Snacks
We carry an extensive selection of snack food products such as pop tarts, cookies, soups, pastries, bagged candy, nuts, gum and mints.
Assorted Chips
We stock a wide variety of chips from all the different manufacturers including Frito-Lay, Herr's, Snyder's and Poore Brothers. We are always open for suggestions.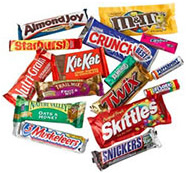 Candy Bars
Our large selection of candy bars includes all your favorites. We continually monitor sales to ensure your machine contains items your employees want.
For over 40 years, Davar Services Inc. has been providing vending machine services to Philadelphia and the surrounding counties of Bucks, Chester, Delaware, and Montgomery County. Within our geographical area, we service many towns including Bensalem, Exton, King of Prussia, Langhorne, Norristown, and Warminster.  

Our service territory in New Jersey includes the following counties of Burlington, Camden, and Mercer County. The towns of Cherry Hill, Mt Laurel, Princeton, and Willingboro are some examples of areas we service within these counties.