Philadelphia Vending and Office Coffee Service
Davar Services, Inc. is your vending machine supplier for beverage vending machines, snack vending machines, Pepsi and Coca-Cola vending machines, food vending machines, and coffee vending machines in the greater Philadelphia area.
For over 40 years, Davar Services, Inc. has been providing vending machine services to Philadelphia and the surrounding counties of Bucks, Chester, Delaware, and Montgomery County. Within our geographical area, we service many towns including Bensalem, Exton, King of Prussia, Langhorne, Norristown, and Warminster.
Our service territory in New Jersey includes the following counties of Burlington, Camden, and Mercer County. The towns of Cherry Hill, Mt Laurel, Princeton, and Willingboro are some examples of areas we service within these counties.
Superior Vending Services For Your Workplace
Davar Services, Inc. is an established full-line food service company. Our company is a family owned business proudly being run by second generation members. Throughout the years, Davar Services has grown into a successful food service corporation. We have built a structure of trusted and competent employees whose loyalty has helped us grow into an efficiently operating company.
Vending programs are customized to meet our customers needs. We are committed to offering traditional snacking options such as beverages, pastries and bagged snacks. In addition, Davar offers healthy choices, including low fat snacks, granola bars and juices. We understand the increasing popularity of healthy snacks and offer our customers the largest selection of these items.
At Davar Services, Inc. we offer your employees the added benefit of having delicious, reasonably priced food on your premises. This convenience makes the workplace an environment that is sure to please all!
Guaranteed Product Delivery by SureVend
Davar Services snack vending machines come equipped with SureVend technology, which guarantees delivery of your product or you money back.
SureVend ensures product delivery by shooting a laser beam across the delivery chamber, and if the product selected does not break the beam, the customer's money is returned.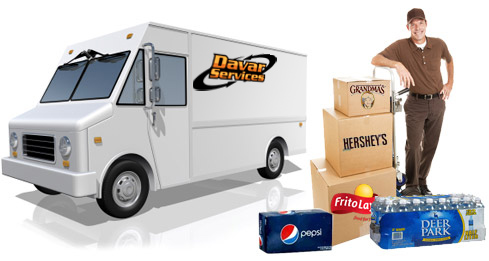 Providing the best refreshment services to our clients, in the most convenient manner, is our business. With the freshest products, knowledgeable employees, responsive service, and the desire to build long term working relationships with you, we are sure to be the right refreshment provider for your organization. Plus with Davar Services , You'll receive these other unique benefits.
Responsive time as little as 2 hours
Service 7 days a week
Regular contact for refund requests
A dedicated account executive
State of the Art Equipment
Custom meal plans with healthy options
Latest vending machine technology
Please consider Davar Services, Inc. for all your vending needs. It would be our pleasure to develop a personalized vending program tailored to your workplace!